Dynamics ERP business solution software empowers your people to be more productive and enables your systems to adapt as you grow while delivering the insight you need to respond quickly in an ever-changing world.
Our ERP Consultancy policy:
Shriman technologies is an ERP consultancy company, where, ERP consultants and ERP solutions are set up to consult and advise manufacturing and commercial companies. ERP consultants touch any area of the ERP consulting process and select the most adapt ERP solutions. ERP research, selection, and choice are performed world-wide by highly skilled ERP consultants.
How we select and appraise:
Shriman technologies ERP consultants also select and appraise specialized ERP systems, after performing a complete gap and fit analysis. Shriman technologies specializes in ERP consulting services tailored to meet your requirements. Shriman technologies ERP consultants will assist your staff thorough the whole ERP consulting process. You will be entering the world of ERP, with a full set of alternate ERP solutions, or specialized ERP systems.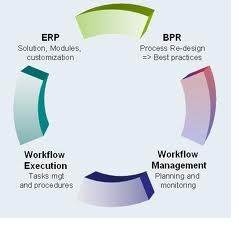 ERP implementation process:
ERP consultants take care of ERP implementation process; ERP is the basement upon which any ERP-related supply chain and customer relationship management architecture must be built: we took care of ERP selection and any other ERP consulting service to meet your requirements. Particularly, we take care of:
ERP selection

Supply chain management

System integration
ERP Consultancy's:
Shriman technologies renders end-to-end ERP consultancy to organization, irrespective of brands (be it SAP, oracle or any other). In the entire process, particular attention is paid to the audit role, which determines ERP feasibility to adapt business dynamics, cost Factors and compliance test.
The consultancy of ERP is rendered in 5 broad areas.
Selection of vendor (Including mapping of business process functionality with the Vendor software and Risk Analysis)
Pre implementation approach

Operational audit

Post Implementation Audit and control

Measuring range compatibility and ROI.