Implementation Methodology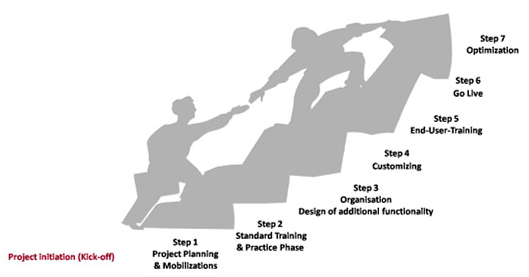 Team Work & Composition
Establish a good team work. A cross-functional team is required which may consist of experienced ERP consultant, skillful programmer.

Specified task assigned to each individual and they should be fully dedicated to it only. Workload should manageable.

Incentive and compensation given as reward of motivation for ERP team able to meet project deadline and budget assigned.
Top Management Support
Top management support is needed throughout the implementation of ERP.

Management from vendor and client should publicly and explicitly identify project priority.
Effective Communication
Expectation from system should be communicated through all levels of organization.

Acquiring input from user for example, their requirements, comments, reaction and etc.
Project Champion
The "champion" is a high level executive sponsor who has right to set goals, delegate, and legitimize change.

The project champion is the person able to continually strive and resolve conflicts and manage resistance from the ERP users.
Training & Change Management
ERP systems involve big change for people include especially end user. Continues training need to be conducted when people change.
Business Process Reengineering & Minimum Customization
It is inevitable that the current organization doesn't fully mold to new system. Thus, Aligning business environment to software implementation is critical.
Monitoring & Evaluation of Performance
Active project review based on the target and milestone set.

Management criteria and operational criteria are used to measure the overall performance
SUCCESS CRITERIA

Percentage

1.

User Involvement

19

2.

Executive Management Support

16

3.

Clear Statement of Requirements

15

4.

Proper Planning

11

5.

Realistic Expectations

10

6.

Smaller Project Milestones

9

7.

Competent Staff

8

8.

Ownership

6

9.

Clear Vision & Objectives

3

10.

Hard-working, Focused Staff

3

TOTAL

100%